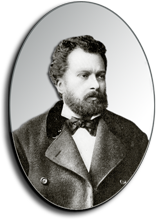 Namık Kemal
(1840, Tekirdağ - 2nd December, 1888, Chios Island). He is one of the pioneers of Turkish nationalism, one of the Young Turks, a famous writer and poet. He especially known for his novel called "İntibah" and for his play called "Vatan Yahut Silistre". His original name is Mehmed Kemal.)
His Biography:
He died in 1888 in Chios Island where he was expelled as a province governor. He is a play writer and poet who occupied an important role in Turkish literature. He is known as "the Poet of the Homeland".
He was given the Namık by Eşref Pasha. His was Asım Bey, who liven in the perion Abdülhamid II. After the death of his mother, he spent his childhood in various cities in Anatolia and Rumeli with his grandfather, Abdüllatif Pasha. For this reason, he took private education. He learnt Arabic and Persian. Then, when he was 18, he went back to Istanbul where his father lived.
In 1863, Namık Kemal, started to work as a secretary at the office of translation of Babıali. In this four-year period, he had the chance to get acquainted with many important thinkers and artists of that time. He joined in a secret association called "İttifak-ı Hamiyet" which later appeared as "The New Ottomans Society". At the same time, he wrote articles in which he criticized the government on a newspaper called "Tasvir-i Efkar". This newspaper was closed in 1867 for the reason that it published articles in parallelism with the ideas of "The New Ottomans Society".
Namık Kemal was sent to Erzurum as an assistant governor in order to be kept away from Istanbul. After hindering this assignment, he escaped to Paris with Ziya Pasha on the invitation of Mustafa Fazıl Pasha. After a while, he started to write on the newspaper called ""Muhabir" which Ali Suavi published on behalf of "The New Ottomans" with the financial support of Mustafa Fazıl Pasha. However, he cama apart from "Muhabir" because of some disagreements with Ali Suavi. He began to publish an new newspaper called "Hürriyet" again with the support of Fazıl Pasha. Then, he returned to Istanbul on the invitation Hüsnü Pasha, the Minister of Gendarme in 1870, after losing his supporting ground in Europe. He hired the newspaper "İbret" together Nuri, Reşat and Ebüzziya Tevfik in 1872. In the same year, the newspaper was closed by the government for four months for one of his articles. Namık Kemal was assigned as the governor of Gallipolis in order to be kept away from Istanbul. One of his plays, "Vatan Yahut Silistre", which he started to write in Gallipolis, was stages at Gedikpaşa Theater and this created great excitement. Namık Kemal was arrested in Istanbul together with many of his friends after the newspaper "İbret" wrote about this incident. At this time, he was expelled to Famagusta and was imprisoned in a castle. After the constitutional Government was declared in 1876, he returned to Istanbul. Then, he became a member of the Council of State. He worked in the committee which instituted the constitutional government. After Abdülhamid II. annihilated the parliament when the Ottoman-Russian War broke out, he was again arrested. He was expelled to Mytilene after a five-month imprisonment. In 1879, he became the governor of Mytilene. He was sent to Rhodes in 1884 and to Chios in 1887 with the same mission. In 1888, he died in Chios and was buried in Bolayır in Gallipolis.
His Literary Personality:
Namık Kemal began to write his first poems when he was just a child. After coming to Istanbul, he wrote parallel poems to the council of poets and to the classical Ottoman poets. It was senses that his poems were influenced by mysticism until he met Şinasi. In this period, he was influenced by Avni of Yenişehir and Galib of Nicosia. After his acquaintance with Şinasi, the content of his poems changed.
He managed to form a kind of verse-prose in order to communicate ideas. In these poems, he used new concepts like "struggle for independence", "chain of captivity", "homeland" "the nation's heart" which were missing in the traditional Turkish literature. Also, he used excerpts from everyday speech. His poems were influenced by Bosnia Herzegovina War and Ottoman-Russian War. Poems like "Vaveyla", "Vatan Mersiyesi", "Vatan Şarlısı" and "Hürriyet Kasidesi" are included in this anthology. Namık Kemal liberated the Turkish literature from the passive tone of the classical Ottoman Poetry with the new concepts he introduced although he did not contribute to the technique of it. All these attributions helped him be "the poet of the homeland".
Namık Kemal, who gave great importance to drama, wrote six plays. "Vatan Yahut Silistre", an epic and patriotic play, aroused interest not only in Turkey but also in Europe and was translated into five languages. In "Gülnihal", which he wrote in Famagusta, he expressed his reaction to coercion and persecution in a dramatic way. Most parts of the play were censored.
In Akif Bey, which was again written in Famagusta, moral principles were mentioned. In this play, Akif Bey, a naval officer, had to face the fact that his wife was not loyal to him when he was on duty. In "Zavallı Çocuk", he rejected arranged marriage. Celaleddin Harzemşah, a 15-scene play, is known to be the play Namık Kemal admired most. This play is set around the character Celaleddin Harzemşah, who defended the Islamic world against Mongols. In this play, Namık Kemal displayed the idea of the unity of the Islamic world comprehensively. His first novel "İntibah" was published in 1876. İntibah, which narrates an event both with its individualistic and social aspects, can be considered as the beginning of Turkish novel. This novel contains both psychoanalytic and outward depictions. Most critics think that Namık Kemal was not able to reach a high literary level in this novel.
"Cezmi", published four years later, is a historical novel. In this novel, which narrates the love of Prince of the Crimean Khanate and of Cezmi's struggle to rescue him, Namık Kemal was influenced by the European romanticism. History was one of the areas he was interested in. "Devr-i İstila" is also one of his works of art in which he narrated the rise and ascension of Ottoman Empire. In "Evrak-ı Perişan", which depicts Selahaddin Eyyubi and Fatih the Conqueror. And in "Barika-i Zafer", he narrates the conquest of Istanbul.
"Silistre Muhasarası" and "Kanije", which he published using the pen name Ahmed Nafiz , are again about epic events of Turkish history. It is claimed that he was influenced by Hammer and was didactic but not scientific in his book Ottoman History. The first edition of this book, which couldn't be completed, was banned by Abdülhamid II. It is asserted that he referred to Ibn Haldun and Averroes in his book "Büyük İslam Tarihi"(1975). Namık Kemal not only integrated novel and drama into daily life but also became one of the pioneers who introduced literary criticism to Turkish culture.
His most outstanding works of criticism are "Tahrib-i Harabat" and "Takip". He wrote in a lively and straightforward style in his criticisms. Tahrib-i Harabat is a harsh criticism written against Ziya Pasha's "Harabat". Takip criticized the second volume of the same book. In "Mukaddime-i Celal", Namık Kemal compared and contrasted Western and Eastern literature and dwelled on drama and novel.
He occupies an important role in Turkish culture as a journalist, too. He wrote in almost all the progressive and innovative newspapers. He wrote about 500 articles on many issues from political and social problems to literary, art, language and cultural matters. It is acknowledged that he created a very impressive style in these works using his talents in prose.
His Political Views:
In one of his articles published on Hürriyet, he stated that there is a notion of democracy in the origin of Islam, and if the principle of "rule of the people" is accepted, no one could possible oppose to the establishment of the republic.
His Works of Art
Play
Vatan Yahut Silistre, 1873 (in New Turkish Alphabet, 1940)
Zavallı Çocuk, 1873 (in New Turkish Alphabet, 1940)
Akif Bey, 1874 (in New Turkish Alphabet, 1958)
Celaleddin Harzemşah, 1885 (in New Turkish Alphabet, 1977)
Kara Belâ, 1908
Novel
İntibah, 1876 (in New Turkish Alphabet, 1944)
Cezmi, 1880 (in New Turkish Alphabet, 1963)
Criticism
Tahrib-i Harâbât, 1885
Takip, 1885
Renan Müdafaanamesi, 1908 (in New Turkish Alphabet, 1962)
İrfan Paşa'ya Mektup, 1887
Mukaddeme-i Celal, 1888
Historical Book
Devr-i İstila, 1871
Barika-i Zafer, 1872
Evrak-ı Perişan, 1872 (in New Turkish Alphabet, 1973)
Kanije, 1874
Silistire Muhasarası, 1874 (in New Turkish Alphabet, 1946)
Osmanlı Tarihi, (ö.s.), 1889 (in New Turkish Alphabet, 3 volumes, 1971-1974)
Büyük İslam Tarihi, 1975
Other Genre
Rüya, 1893
Namık Kemal'in Mektupları, 1972